The OSET 12.5 Racing - The world's best selling electric motorcycle for ages 3 - 5
The OSET 12.5 Racing is a high specification electric motorcycle and is the perfect beginner bike for children who have never ridden before, and will grow with the child as they venture into more challenging riding terrain.
This starter dirt bike is designed to get children off to the best possible start through developing their bike skills and confidence and not surprisingly is regarded as the best starter motorcycle in the world for kids aged 3 - 5 and has been the 'first bike' for tens of thousands of kids all around the world.
No hot parts, no noise and no gas needed
Virtually silent so can be used in many places gas bikes cannot 
Designed with a complete focus on safety, skills development and of course fun 
Use it everyday in your back yard! 
The OSET 12.5 Racing features a host of high end components. Thin grips for small hands, disc brakes front and rear, padded chin guard, alloy wheels, hubs, bars and pegs, and high grade adjustable suspension. It's easier to learn to ride than a bicycle, but capable of taking first steps into competition.
Key Features:
Safety features are paramount - Magnetic lanyard cut-out switch with a strap goes around your child's wrist, so that when the lanyard is pulled, power is switched off comes as standard
Separate key switch is easily removable by the parent when it's time to take a break!
Disc brakes front and rear to provide essential stopping power when needed
Featuring the OSET 24v 600w motor
Our exclusive '2 dial' system, which allows parents to easily adjust the speed and response of the bike
It can be set from a very tame bike at a slow walking pace and low power, all the way up to maximum power for more experienced riders
For those learning to ride, the throttle response can be set so the reaction of the bike to throttle openings is softened
Full coverage chain guard, padded chin guard and custom foot pegs for little feet
For riders aged 3 - 5 year old
MSRP: $1899.00

OSET Bikes have made it possible for my kids to follow in our footsteps and learn riding skills beginning at a very young age. Their small sizes and adjustable controls make incremental advances easy for riders of any size and skill" - Sarah Menard, UK
The 12.5 Racing is truly a machine to put a smile on the face of children and adults alike.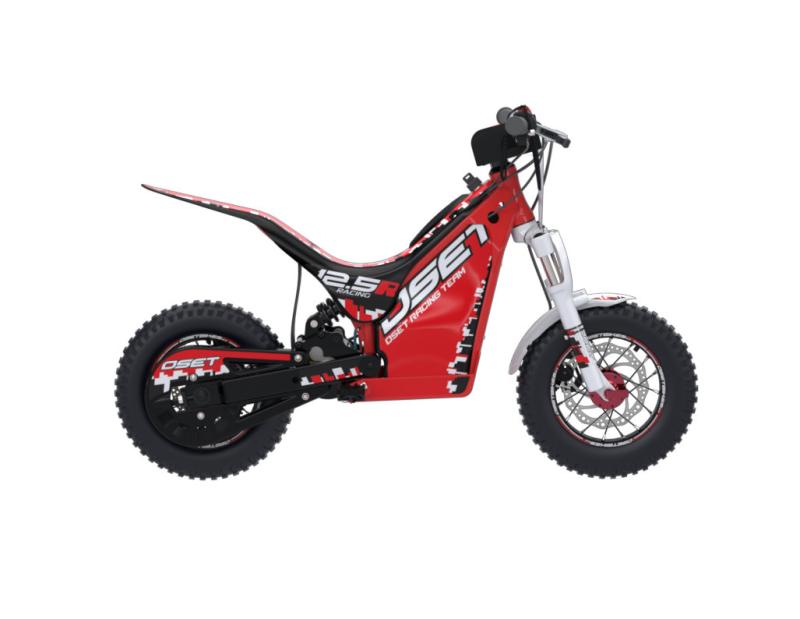 Technical data
| | |
| --- | --- |
| Wheelbase - 725mm (28.5") | Seat height - 390mm (15.0") |
| Ground clearance - 152mm (6.0") | Handlebar height - 650mm (25.6") |
| Wheels - 12.5" alloy rims/hubs. | Suspension - Front telescopic, 40mm travel. Rear shock, preload adjustable, oil dampened. |
| Bike Weight - 26.4kg (58.19lbs) | Motor - 600W 24V OSET neodymium magnet DC motor. |
| Controller - 24V OSET, adjustable for speed & response. | Batteries - 2 x 10ah AGM SLA. |
| Charger - 2 amp 24v. | Age range - 2-5 years' old. |
| Rider weight limit - 60lbs (27.3kg). | MSRP - $1899 |
Find your nearest dealer