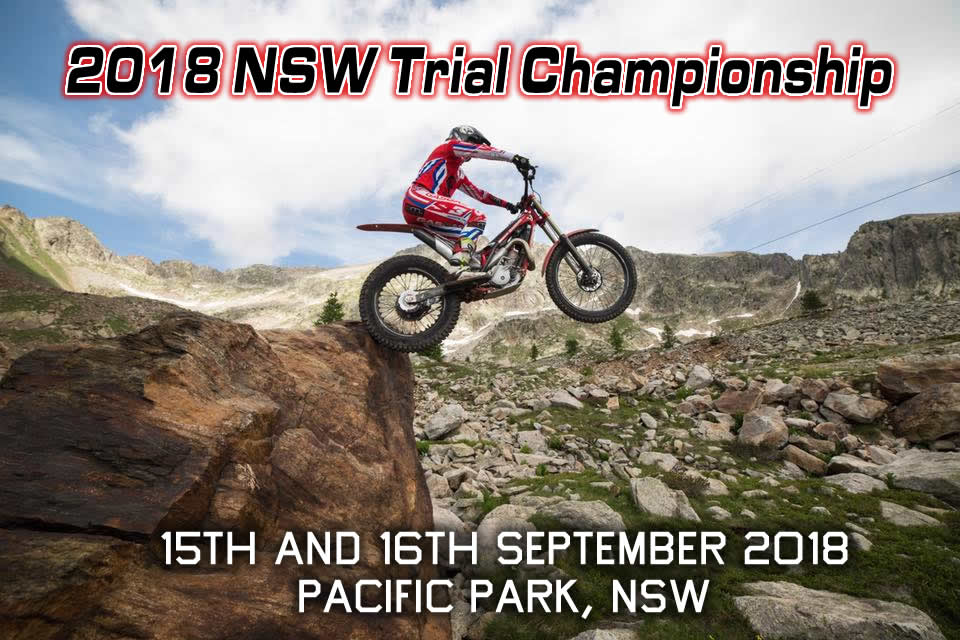 Pacific Park Trial Club, and the combined Trial Clubs of NSW will be holding the NSW Trial Championship weekend on September 15th and 16th at the home of Trial in Sydney, Pacific Park Motorcycle Complex - 247 Pacific Park Drive, South Maroota, NSW 
featuring OSET Groms and Come & Try Trial's Sideshow!
OSET Bikes will be running Come & Try Trials alongside this event, kids of all ages and sizes can 'Come & Try Trials'  on their own OSET bikes or try the demo OSET Electric trial bikes and also walk around to watch the action of the NSW Trial Championships.
The OSET Grom's and Come & Try will be  non-competition run on separate area and sections to the NSW Trial Championship, participants should be wearing appropriate riding wear or clothing and boots (closed in shoes), Helmets with hair nets can be supplied for first timers! All parents or guardians need to sign in their riders for a Motorcycling Australia Come & Try License for $20 and a Pacific Park indemnity form as well!
OSET Groms + Come & Try Trials Sign-up and riding SATURDAY from 1200-1600hrs, SUNDAY from 1030-1400hrs
PACIFIC PARK INFO:
Open for camping and riding on the Thursday and Friday preceding the event, and the Monday after as well. (usual park fees apply on Thursday, Friday and Monday payable to the PP staff). Camping is available with toilet blocks, showers and laundry facilities. There is now mobile phone access at Pacific Park as well. Prices: Camping and overnight stays $8 per adult, $4 per child.
Campsites are available, or bring your van or caravan. We do not have fixed accommodation for hire at this stage.
We have an great shop for groceries, hot and cold food, tea, coffee and a huge range of drinks and snacks.
there is also an on site shop (The Bike Shak) that stocks Moto and Watersport accessories and parts, and offers repair facities and tyre changing service.
Modern and clean toilet and ammenities blocks, and laundry facilities for guests.
Pump petrol is available at the Park.
Their is a dedicated and fenced kiddies play area with swings and slides
SPECIAL NOTES AND WARNINGS in regards to the Competition and visitiors:
18.2 No bikes to be ridden in the area during the event other than by Competitors and Officials.
18.3 No animals permitted. (Guide dogs exempted).
18.5 Start time on Saturday will be 11am to allow for riders travelling to the event
18.6 Start time on Sunday will be 9am to allow for an earlier finish, again for travellers.
18.7 Entry into the competition sections, either by foot or on a bike is completely prohibited before the day of competition.  Section inspection of all sections is allowed from am Saturday 15th September. Any breach of these restrictions may result in rider exclusion from the event.
18.8 NO MOTORCYCLE RIDING ON THE DIRT ENTRY ROAD (PACIFIC PARK DRIVE). RIDERS WILL BE EXCLUDED FROM THE EVENT, AND ASKED TO LEAVE THE PARK IF CAUGHT RIDING ON THE ACCESS ROAD. ACCESS TO ALL TRIALS AREAS IS EITHER ON THE TRACKS WITHIN THE PARK, OR BY REGISTERED VEHICLE TRANSPORT IF ON THE ACCESS ROAD. THIS RULE WILL BE STRICTLY ADHERED TO. BE WARNED.
for more information call Pete Goddard on 0419634948
---
Pacific Park Trial Club, and the combined Trial Clubs of NSW
OSET Bikes DownUnder - Pacific Park Motorcycle Complex