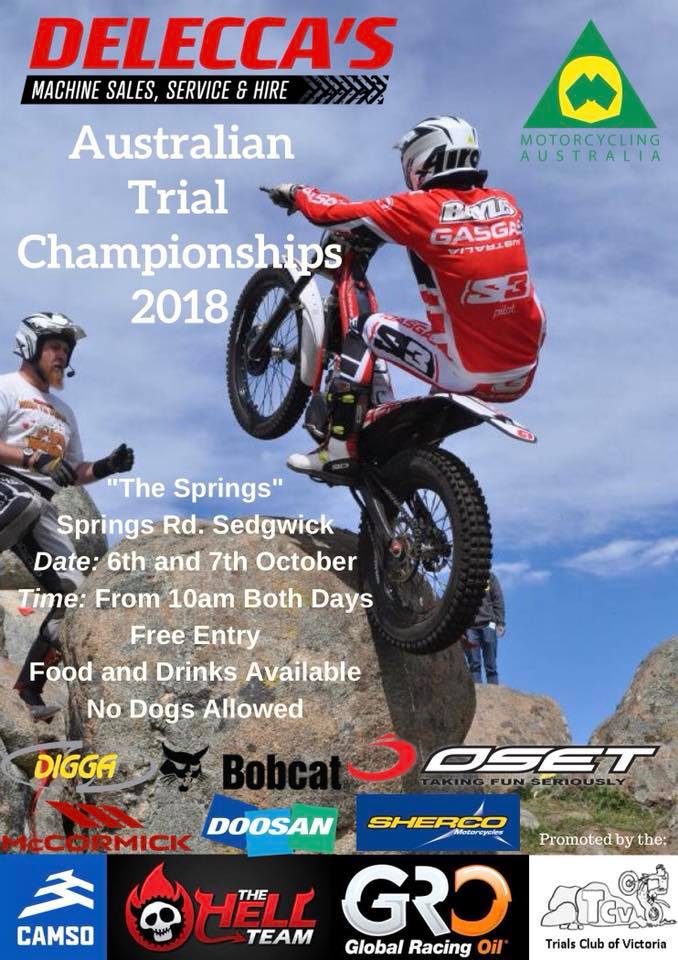 Trials Club of Victoria, will be hosting the DELECCA's Australian Trial Championship this weekend on 6-7th October at Sedgewick VIC 
featuring "OSET Grom's" Mini Trial and Come & Try Trial's Sideshow!
OSET Bikes will be running Come & Try Trials alongside this event, kids 4-7yrs can 'Come & Try Trials'  on the demo OSET Electric trial bikes and also walk around to watch the action of DELECCA's Australian Trial Championships.
The OSET Grom's Mini Trial and Come & Try will be  non-competition run on separate area and sections to the Australian Trial Championship, participants should be wearing appropriate riding wear or clothing and boots (closed in shoes), Helmets with hair nets can be supplied for first timers! All parents or guardians need to sign in their riders for a Motorcycling Australia Come & Try License!
OSET Groms + Come & Try Trials Sign-up and riding SATURDAY from 1100-1430hrs, SUNDAY from 1100-1430hrs, for more information call Pete Goddard on 0419634948
A Gold coin entry fee is all it costs for spectators to watch Australia's best Trial riders. Payment can be made at the entrance to the venue. Outstanding value for a national event that has over 150 competitors with all states represented. 
Riding commences at 10am on both days.
With the exception of guide dogs, no dogs leashed or unleashed will be allowed on this property.
Food and drinks will be available for purchase.
If you are travelling to Bendigo from interstate or overseas why not extend your holiday and seek out some history, sip some great wines and soak up the views. There's plenty to do in Bendigo, Castlemaine, Maldon and surrounding areas.
---
Trial Club of VICTORIA
OSET Bikes DownUnder